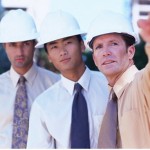 ISU Curry maintains a comprehensive library of safety training videos for your company's
employee training program.  Safety training helps prevent accidents and injuries to
reduce claims and keep premiums under control.  Videos can be mailed or couriered to
your facilities.
Safety Training Videos
Each safety training videos focuses on a particular topic to teach employees how to prevent accidents, injuries and other safety hazards.
1. Your Healthy Back
2. Preventing Back Injuries through Exercise
3. Back Injury Prevention Lifting Safety (Two tapes in Spanish)
4. How to Have a Happy Spine
5. Safety Inspections
6. Recognizing Chemical Dependency and What to do About it.
7. Communications
8. Hazard Communications, Right to Know
9. In Supervisor Training
10. Industrial Ergonomics
11. Ergonomics, A Safe Workstation is no Accident
12. 20/20 Workers' Comp Fraud
13. Accident Investigation
14. Fire Safety
15. Industrial Hygiene
16. Material Handling
17. Personal Protective Equipment
18. Hand Tools and Portable Power Tools
19. Forklift Operation (Spanish)
20. Safety Operation Systems Lift Alert
21. Forklift Operator Safety
22. Color of Danger (Spanish)
23. Performing Job Hazard Assessment
24. Job Hazard Assessment
25. CS-20 Forklift, CS-32 Safe Lifting, CS-14 Drug testing, Pa-5 Chlorine Safety
26. Research Desk
27. Isometric Stretch
28. OSHA's New Hazardous Energy Source (Lock out/Tag out) (Spanish)
29. Ladder Safety
30. Kitchen Safety, Restaurant.
31. Basic Electrical Safety in the Workplace
Supervisor Leadership Training Video Program:
These videos train supervisory employees on establishing and maintaining a safer workplace from a managerial perspective.
1. Claims Process
2. How to Develop and Implement An Effective Safety Program
3. General Safe Work Practices
4. Managing Employee Safety and Health
5. How to Build an Effective Team (Spanish)
6. Workplace Safety Inspection Checklist
7. Employee Safety Orientation
8. Discipline – The Supervisor's Roles
9. The Troubled Employee at Work
10. Safety Committee – The Real Story
11. Safety and the Supervisor (Spanish)
12. Safety for all Employees
13. Safety for Industrial Employees
14. Supervisor Guide to Accident Reporting
15. Time Management
16. General Office Safety
17. Documentation of Safety Efforts
18. Supervisor Safety you Make the Difference
19. Setting the Example for Employees
20. Absenteeism/Tardiness
21. Safety is Key Pass it On
22. Supervisor's Development Program
23. Coach Training Video
24. The Optimum Operation Review
25. Safety Pays! The Workers' Comp Solution
26. Developing Strategies for Team Work
27. Safety Shorts Review
28. Safety Tips for new Safety Supervisors
29. Managing Safety
30. Employee Training Responsibility
31. Unsafe Acts, Human Behavior
32. Assessing Risk in the Industrial Workplace
33. Performance Reviews